Business Mobile
Your TSB Business Account, Always At Your Finger Tips.
With Torrington Savings Bank, you can always have the important information about your business close at hand – in fact, as close as your mobile device. Our secure mobile app lets you handle business from wherever work takes you.
Download the TSB Mobile App Now!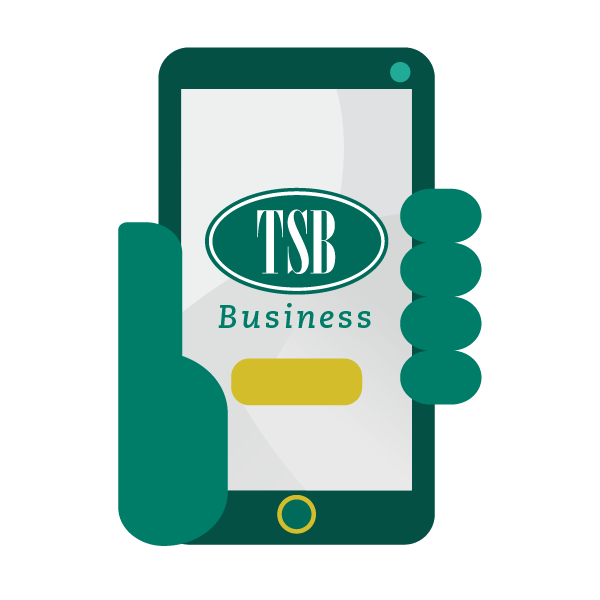 Business Mobile FAQS
We are certain that you will enjoy the functionality of Torrington Savings Bank's Mobile Banking product. While mobile banking is a safe, effective method of conducting your banking transactions, you should keep in mind the following precautions:
Password-protect your mobile device and lock your device when it's not in use. Keep your mobile device in a safe location.
Never disclose personal information about your accounts via text message, i.e. account numbers, passwords, or any combination of information that can be used to steal your identity.
If your mobile phone is lost or stolen, immediately contact your financial institution.
Do not hack or modify your device, as this will leave it susceptible to infection from a virus or Trojan. When possible, install mobile security software on your device (if it's available). Some mobile security solutions include: AhnLab Mobile Security, avast! PDA Edition, Kaspersky Mobile Security, and Norton Smartphone Security.
Be aware that malware exists and fraudulent applications will continue to pop up.
Don't download applications onto your phone without checking them out first. Verify the legitimacy of an application with your financial institution before downloading it to your smartphone- verify that the app publisher or seller is your financial institution, or if possible, go through your financial institution's website to download the application.
Report any banking application that appears to be malicious to your financial institution right away.
Monitor your financial records and accounts on a regular basis. This will enable you to spot any suspicious activity.
If you have been a victim of identity theft, contact your financial institution immediately. You should also place a fraud alert on your credit report and continue to review your credit reports, close the accounts that you know (or believe) have been tampered with or opened fraudulently, and file a complaint with the Federal Trade Commission (FTC).
For the mobile app, use the "Forgot your password?" prompt on the log in screen. If you are still having difficulties, we are here to help. Just call 866-987-7603.
1. Click on Manage Profile Settings
2. You have the option to turn on the feature where your physical device is required to complete your transaction. You can also choose to only be alerted on transactions where your device is not present. To turn on Device Required go to the Locations section once you have completed setting up your profile. If you choose to turn on Device Required, you will need to click on "Set Current Device as Primary".
Please Note: Any transaction made within an 8-mile radius and the device is present that transaction should be approved. Any transaction made outside of the 8-mile radius without the device present should be declined.
3. Setup your device to receive Push Notifications by: ➢ Clicking on the Add Destination ➢ Under the Notification Method select Push Notification ➢ Confirm your device's name appears ➢ Click Add ➢ Click Submit
Please Note: You must be enrolled in push notifications. If you are already enrolled in push notifications you will not be required to enroll in push notifications; meaning you are already enrolled.
4. If you wish to receive email notification along with push notifications or just email notifications, you will need to: ➢ Click Add Destination ➢ Under the Notification Method select Email ➢ Input your email address ➢ Click Add ➢ Click Submit
Please contact us at 860-496-2152 or visit www.torringtonsavings.bank for more information.
Hi I'm a swift cricket dev site FAQ strictly for testing purposes.
Categories I should appear on: About TSB, Business mobile and Debit Card
Details:
Your mobile carrier may charge for internet access and/or text messages. Message and data rates may apply.